02. Who are we?
Bloemfontein's 'Buddy' blossoms to win 2011 Hill's Pet Slimmer of the Year
When Roche Knoesen from Bloemfontein rescued a worm-infested Dachshund puppy acouple of years ago, little did she imagine her new best 'Buddy' would one day win a nationalslimming competition. But Buddy, the once-starving pup, has just been announced as the2011 Hill's Pet Slimmer of the Year, having lost 6kgs (46% of his bodyweight) on a weightloss programme for overweight pets.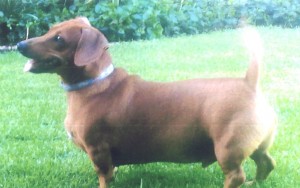 Like many other owners of rescued pets, to make up for the hardship he had endured in hisyoung life, Roche and her family spoilt Buddy with lots of love and food, unaware that thisoverflowing kindness could actually kill him. By the time Buddy was two years old, he weighedin at 13kgs and his excess weight was a serious threat to his health.
"The staff at Bloemfontein Veterinary Hospital warned me that Buddy was at risk ofspinal injury and life-threatening conditions if he did not lose weight," said Knoesen. Sheimmediately signed Buddy up for the veterinary supervised weight loss programme and thebattle of the bulge began.
Buddy had been used to sharing the family's food and lots of treats, including cookiesand droewors. "Basically if we ate it he ate it," said Knoesen. On his new regime he wasfed exclusively on food proven to help obese pets lose weight, Hill's Prescription Diet r/d.Fortunately "he loved his new food straight away," said Knoesen. What was harder wasgetting the whole family to commit to Buddy's new lifestyle, but once titbits and treats stoppedit took just seven months for Buddy to reach his goal weight of 7kgs.
Buddy was chosen as the overall winner by online voting – he received a total of 21,248votes. He was one of nine dogs and one cat in the running; the ten finalists had lost, onaverage, almost 30% of their bodyweight and each had an inspiring weight loss story to tell. Intotal 87,225 votes were received. As overall winners, Buddy and his owner receive a R25,000prize, three months supply of Hill's food, a professional photo shoot and the prestigious Hill'sPet Slimmer of the Year title. A delighted Knoesen says she'll be using the money "to buysome new toys for Buddy and for laser eye surgery so I'll no longer have to wear glasses."
Now in its fourteenth year, the Hill's Pet Slimmer of the Year competition takes place to raiseawareness of the dangers of pet obesity and show what a difference healthy weight loss canmake to an overweight pet. It's certainly made a tremendous difference to Buddy; "he lovesswimming but when we threw his ball in the pool to fetch he used to sink because he was toofat to swim," said Knoesen. "Now he swims like a dream!"
The Hill's Pet Slimmer programme, which is run by hundreds of veterinary clinics in SouthAfrica and Namibia, combines the clinically proven weight loss food with regular weigh-insand expert advice. It has proven to be a successful formula for thousands of cats and dogs.Participating practices in South Africa are detailed on www.petslimmer.co.za. For advice onhow to help your pet rediscover its sleeker silhouette, speak to your vet.