02. Who are we?
Collaborating to save children's sight in sub-Saharan Africa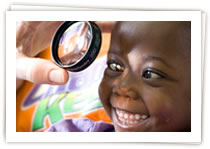 Ten paediatric eye-care clinics in ten years – that is the commitment for sub-Saharan Africa from multinational sight-saving organisation ORBIS. This was announced at a recent conference in Cape Town, when paediatric eye care experts, academics, not-for-profit organisations, teaching and training institutions and health department officials from 15 countries gathered to strategise on how to prevent children from going needlessly blind in the sub-Saharan region.
"Fifty percent of childhood blindness in Africa is avoidable," said Professor Colin Cook, Head of Ophthalmology at the University of Cape Town, Groote Schuur Hospital and Red Cross War Memorial Children's Hospital. "Early intervention is very important both in the community and at a primary, secondary and tertiary level."
With a direct link between the incidence of blindness and poverty, sub-Saharan Africa carries the heaviest burden of blindness – 23% of the world's blind (India has 19% and China 13%). "In terms of global blindness alleviation Southern Africa is a priority region," said Lene Øverland, Director of Programme for ORBIS Europe, Middle East and Africa.
It seems that the poorer the community, the lower the chances of children surviving blindness. The World Health Organisation estimates that up to 60% of infants die within two years of becoming blind. "With a one hour procedure you can not only make a huge difference to a life, you can save it," said Dr Hunter Cherwek, Medical Director of ORBIS.
According to WHO recommendations, one paediatric ophthalmic centre is necessary per 10 million people. Sub-Saharan Africa is grossly under-catered for with an estimated 26 child eye health centres in 12 out of 48 countries: South Africa has two dedicated children's facilities, one at Red Cross War Memorial Children's Hospital and one at Tygerberg Hospital, both in Cape Town. ORBIS is in the process of developing a third centre at Inkosi Albert Luthuli Hospital in Durban, in partnership with the Kwa-Zulu Natal Department of Health. Many countries in the region do not even have a paediatric ophthalmologist.
Øverland has challenged stakeholders to embrace and add to ORBIS' pledge of a one million dollar (R6.7-million) paediatric eye care clinic each year, over the next ten years. "There are fewer paediatric ophthalmologists and paediatric eye centres in Africa than anywhere else in the world. Correcting the tragedy of preventable blindness in the region is an urgent public health priority."
ORBIS will raise funds in South Africa and internationally to finance the improvement of paediatric eye care services. "Fundraising is just one of the challenges," said Dr Daniel Etya'ale, Executive Director for Africa for the International Agency for the Prevention of Blindness. "The vast geography and scattering of rural and impoverished communities over an enormous area complicates the delivery of regular and sustainable eye care services."
Far from being a luxury, experts concur that paediatric eye care gives a significant return to society; childhood blindness is estimated to account for a third of the total economic cost of blindness. "Restoring a child's sight offers you one of the best returns on medical investment," said Dr Cherwek. "It is one of the most cost-effective procedures of all medicine if you consider the years of use subsequent to treatment. Saving one child's sight can be the same as operating on 10 elderly people with cataracts in terms of blind years saved."
Training of specialist eye care professionals is another challenge that ORBIS plans to tackle. "If you are the only paediatric ophthalmologist in the country it is extremely difficult to go overseas for months at a time to do specialist training," said Cherwek. "The ORBIS Cyber- Sight programme – which connects medical professionals around the world via the Internet – is one way African doctors and nurses can receive mentoring, consultations and expert input from their peers without having to leave their places of work."
"You could spend your whole life crying about the massiveness of the challenge," says Dr Etya'ale. "But the good news in blindness prevention is that many simple and successful interventions exist and when carried out effectively, you can see real change in a short period of time."