02. Who are we?
Hill's Pet Slimmer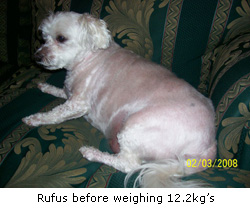 Maintaining your pet's optimum weight will help it to live a longer, healthier life, but unfortunately excess kilos can creep on quite easily and aren't as simple to shake.
The Hill's Pet Slimmer programme, run by hundreds of veterinary practices, has helped thousands of cats and dogs around South Africa shed their 'killer kilos'. It combines veterinary support and regular weight checks with a special diet – Hill's Prescription Diet r/d – which is the only pet food proven to help turn off the genes responsible for fat storing and turn on those responsible for fat burning, causing a change in metabolism for safe, long-term weight management.
When you enrol your pet you'll receive a free toy – a slip lead for dogs or a bouncy mouse for cats, and if your pet reaches target weight by 31 August it will be eligible to enter the 2010 Hill's Pet Slimmer of the
Year and you could win a tropical island holiday fortwo.
Ask your vet about the Hill's Pet Slimmer Programme, or contact Hill's on info@hillspet.co.za or (0800) 227 783 toll-free to find your nearest participating practice.