02. Who are we?
ORBIS Global Chair visits South Africa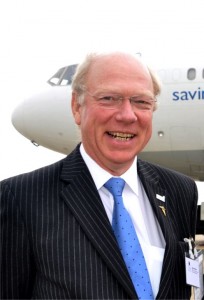 Dr Robert Walters, Global Chair of ORBIS, an international eye care not-for-profit organisation, said they have big ambitions for Africa. On a recent visit to Cape Town he said, "Africa has the highest prevalence of blindness worldwide and we have to be here if we are serious in our mission to prevent avoidable blindness."
Walters said that recent news reports on the desperate state of South Africa's healthcare (Sunday Times, 25 March 2012 'Inside a Sick System') demonstrated the present need for NGOs such as ORBIS. "The discrepancy in access to medical care between urban and rural populations is one that every healthcare NGO in the world encounters. Our strategy is to strengthen referral networks within existing systems and improve eye care treatment at a tertiary, secondary and primary level."
Walters said that ORBIS will be active in Sub-Saharan Africa in the long-term. "We are working directly with Governments to identify effective interventions and embed them within existing systems. It is of the utmost importance to us to be medically effective and sustainable."
Walters said he is confident that ORBIS, as part of the Vision 2020 global forum working to prevent blindness, is making progress: "Whilst the global population has increased, the number of blind people has reduced from 45 million to 39 million over a ten year period. But the challenge remains – to have greater reach and greater effectiveness."
Working in partnership – with Governments and other eye care organisations – is key to the ORBIS approach. "It would be easy to become diluted and less effective. We have a strict focus – we are fundamentally a capacity building organisation – where we need support, we work with others," he said.
Walters said South Africa is fortunate to have extremely skilled eye care professionals. "We recognise there is a great deal of capability here. South African doctors are at the cutting edge, but there are still significant areas that existing eye care units have been unable to service. We want to work with local expertise to enable better reach to the urban and rural poor."
"In South Africa ORBIS is unique within ORBIS International," said Walters. "It is the first country where we are raising funds for the country where we are implementing programme."
He says that accountability is integral to the ORBIS ethos: "We ensure that our beneficiaries and donors are completely confident that all money is utilised in an ethical and cost effective manner."
To find out more about ORBIS and how you can join the fight for sight visit www.orbis.org.za
or www.facebook.com/ORBIS-SA.